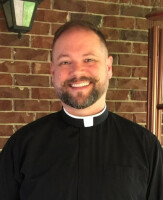 Fr. Brandon Hudson
Office: (479) 855-2715
E-Mail:

A native of Northwest Arkansas, Fr. Brandon J. Hudson received a Bachelor of Arts in Classical Studies with minors in Religious Studies and Music from the University of Arkansas, Fayetteville, and a Master of Divinity from the School of Theology at the University of the South in Sewanee, Tennessee. Prior to seminary, Fr. Brandon was shaped by his career in restaurant and retail store management. "The service industry has been one of my greatest spiritual teachers." While he was a layperson, Brandon served the Diocese of Arkansas in many roles, including a term on the bishop's Executive Council and as an EfM (Education for Ministry) group mentor for nearly a decade.

A creative at heart, Fr. Brandon is also a self-taught oil painter-- you may see some of his artwork at www.brandonjhudsonfineart.com. He also serves the broader church in his role on the Board of Directors for the Episcopal Church and the Visual Arts (www.ecva.org). Prior to his calling at St. Theodore's, Fr. Brandon served as curate at St. Thomas Episcopal Church in Springdale, AR. Brandon and his husband Ty have been married since 2014, and are proud dog-parents of one spoiled Beagle, Reese.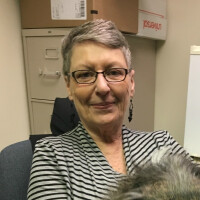 Lana McDonald
Parish Administrator
Office: (479) 855-2715
E-Mail:

Lana moved to Bella Vista from St. Louis, Missouri in 1991 to be closer to family here and in Kansas City. She joined St. Theodore's in 1992 and became the part time secretary in 2003. In 2005, the position was expanded to Parish Administrator. She is in the office daily to answer the telephone, respond to email inquiries and serve as administrative assistant to the rector. Lana also sings in the choir and handles administrative duties for Project Lifesaver of Benton County, a program begun in 2007 by the Benton County Sheriff's Office and St. Theodore's that places radio transmitter devices on people who may wander such as Alzheimer's/Dementia patients and autistic children.
Lana says she has never enjoyed a job more, not only for the day-to-day interactions with other staff and parishioners, but also for the many opportunities it has afforded her to be involved in various ministries within the parish and the Diocese of Arkansas.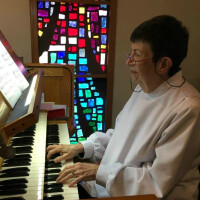 Annette Zehring
Organist & Choirmaster
Office: (479) 855-2715
E-Mail:

Annette showed up at St Theodore's over ten years ago, found some music on the organ rack and has been playing here ever since.
In addition to having a great sense of humor, Annette was raised here in Arkansas and attended the College of the Ozarks before graduating from the University of Oklahoma in vocal performance. She has attended multiple graduate classes and workshops in vocal pedagogy and research, church music, and choral music.
Annette spent several years in New York where she taught classroom music and private voice in the Adirondacks, and also served as a vocal adjudicator at state music contests. She worked her way through college as a staff accompanist, but didn't study organ until she was in her late 30's. "I immediately loved the organ because of the variety of beautiful sounds available."
Annette's role at St. Theodore's is her first combined organist/choirmaster position. She has been a church organist for over twenty-five years. In her spare time she loves to read, cook, knit, eat, garden, travel, and waste time.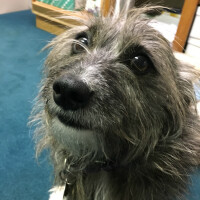 Rosie McDonald
Episcopup & Parish Greeter
E-Mail:

Rosie joined the St. Theodore's office staff in February 2013 shortly after her adoption from the Rogers Humane Society Shelter by Parish Administrator, Lana McDonald. Rosie takes her position quite seriously, and is happy to give a tail wag and even a kiss if given the opportunity, to anyone stopping by the office. Although she loves everyone, she has a few special friends who make sure to have treats when they visit.
St. Theodore's Vestry
Our Vestry is the governing body of St. Theodore's Episcopal Church. The Vestry is composed of men and women elected at the annual parish meeting in January. The Vestry meets approximately once a month with the Rector to set policies, administer funds, and oversee the operation of the church. In addition, Vestry members are assigned to committees that oversee the service groups and fellowship activities of St. Theodore's. Vestry members are elected for staggered three-year terms. Current Vestry members are:
Nancy Nagle, Senior Warden

Al Addington - Co-Junior Warden

Colleen Whitney - Co-Junior Warden

Renee Goodrich

Carolan Weaver

Doug Farner

Christina Erdman

John Scott

Angie Calix


Jerry Schaefer - Treasurer
Diane Landmesser - Clerk