Message from the Sr. Warden
Did you hear it? That was St. Theodore and a choir of angels rejoicing in the highest heavens at the calling of Fr. Brandon Hudson to be our new rector! I haven't been this happy since we got our income tax refund the same week bacon and quilt fabric were on sale and the Chiefs won the Super Bowl! Some things are totally worth the wait!
As I was listening to Fr. Brandon at our first meet-and-greet with the vestry, I was so impressed at how perfectly his gifts and passions align with what we have identified as our greatest needs. This must be a God-thing, I thought. I was secretly making hashmarks when he said something that particularly resonated with me.
The very first mark was made when he spoke of his desire and ability to create strong, effective teams with visions of what the future of St. Theodore's could be. We all know that at any level, when individuals unite to achieve common goals, the sky's the limit! What might we accomplish if all our separate dreams for St. Theodore's combine and begin growing in the same direction?
I was also impressed with Fr. Brandon's passion for teaching. He recognizes the need for a strong Christian education department and is filled with new ideas to help bring ours back to a place of prominence within the church. (Another hashmark was added.)
When he said that it was his nature to view everyone and everything through a lens of love and compassion, I knew we had found someone very special. He further shared that he has a good working knowledge of technology and I knew that gave him LOTS of extra credit points with the team that has been working tirelessly to facilitate our live-streaming Sunday services. Then, when baby Amelia came into the room and he turned into the silly, googly, bowl of jelly we all become when we see her, I knew I was a goner. It was love at first sight between the two of them! How wonderful, I thought, for this beautiful little girl to be brought up in a church family that will be led by a man such as this. I was in danger of setting the paper on fire with all the hashmarks I was making!
He was, and is, the right person for St. Theodore's. He will truly be coming to us with a servant's heart and a desire to lead our church family towards the fulfillment of God's plans for St. Theodore's. God heard our prayers and, on His time schedule, not ours, answered them according to His will. Thanks be to God! Alleluia! Alleluia!
Sharon Moravits
---
We Get to Sing in Church!
Beginning this Sunday, we will be singing the hymns in church, while remaining fully masked. The recent directives from the bishop and the success of the vaccines have made this possible for us.
It will be necessary to choose shorter hymns when possible, and we won't sing all the verses of a hymn, so this will be another small challenge for us. Please make note of which verses have been selected—as in, verses 1 and 3. I'm not sure anyone cares if you sing an incorrect verse from time to time. Just sing your song and rejoice.
Annette
---
How Many Are Watching on Facebook?
The Fourth Sunday of Easter. April 25, 2021
Reached = 261
Engagements = 142
People reached on Facebook refers to how many people saw a specific Facebook post.
Facebook engagement is any action someone takes on a Facebook post. This includes the number of likes, shares, checking in and viewership.
Weekly In-Person Attendance
All services beginning in April are listed below. Going forward, only the attendance for the previous Sunday will be shown.
April 1 - Maundy Thursday 23
April 2 - Good Friday 25
April 4 - Easter (8:00) 41 (10:00) 47 (Concordia) 25
April 11 - 2 Easter (8:30) 21 (10:00) 34
April 18 - 3 Easter (8:30) 22 (10:00) 29
April 25 - 4 Easter (8:30) 16 (10:00) 22
Look for these numbers each week in the Parish News.
---
Sunday Scripture Study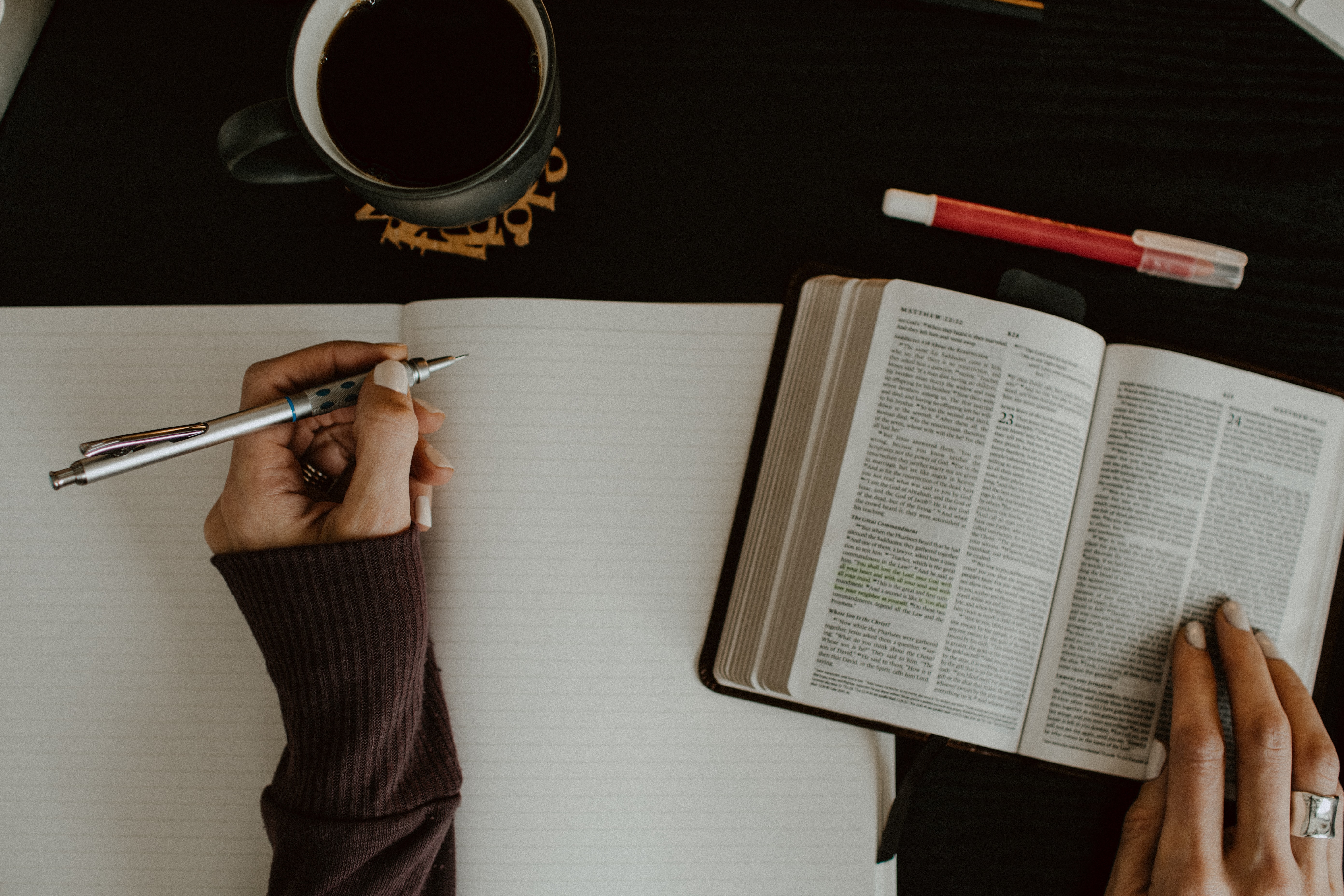 Sunday Scripture Study will start meeting in person this Sunday in Sengel Hall. We will push the start time to 11:15 AM to allow everyone to get downstairs. Masks and social distancing will be observed.
We will continue to meet via Zoom as well so you can still join us from home!
---
Brown Bag Bible Study
At last! The Brown Bag Book/Bible study group will resume our meetings in Sengel Hall at 11:30 AM on Tuesday, May 4th. We will be on Lecture 22 from St. Augustine's City of God, "Heaven, the Self Redeemed," and Colleen Whitney will lead the discussion. We are very much looking forward to seeing you all.
If you would like to join this group, you don't need to worry about catching up. Just bring your lunch and show up. The leaders will see that you get the study materials.
Susan Porter
[Photo by Aamir Suhail on Unsplash]